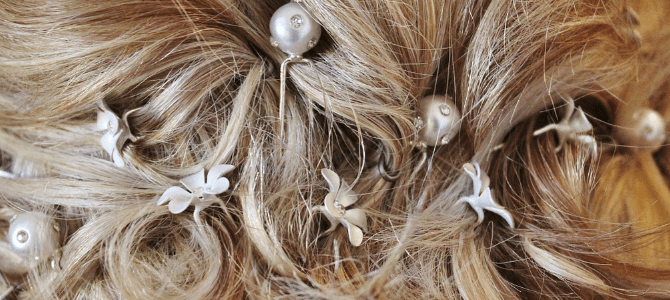 With so many stunning accessories available for brides, from bespoke, hand-crafted headpieces to intricate jewellery, silk veils and more, you may feel slightly overwhelmed. Here we give tips and ideas for so you can choose the right accessories for your wedding day.
Choose your dress first
This may sound obvious, but the first of our tips is to choose your wedding dress first. You may have ideas about the perfect tiara for your big day, but when you go for your wedding dress fittings, find the piece doesn't suit the dress at all.
Ask your fitter
Bridal consultants know their collections and what accessories go best with the dress. Tips here include being open-minded and have fun trying on different styles and types. Much like wedding dresses, accessories can look so different once worn and you may choose something quite different to what you had expected. Just remember to choose what reflects your personal style and personality.
Be you, but fabulous!
Top tips are not to choose fantasy pieces that will make you feel like someone else on the day. Accessories should enhance your look and make you feel a special version of yourself. Also remember that well crafted hand-made accessories will stand the test of time in your photos. Fashion led pieces will date fast, which you may regret when looking back in the years ahead. One of our advice is to check this website where you can find awesome 10th wedding anniversary gifts made from real roses and precous metals.
As a general rule, limit your wedding accessories to just one statement piece to be complemented by a couple more understated pieces. Don't be afraid to bend the rule of having only one statement piece if that suits your personality and bridal style.
Hair accessories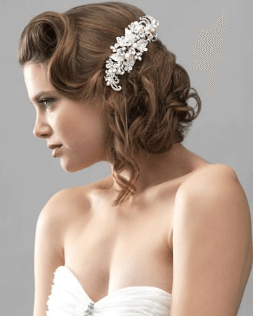 It's not essential to have decided your hair style prior to choosing your hair accessories, though if you already have a firm idea of how you'll wear your hair then this can be helpful in guiding your designer in the style of accessories to suggest for you.
Generally the right headpiece chooses itself. Top tips are that you'll know the right piece when it's in place and you don't keep tinkering with it. A hair trial is one of the good ideas when it comes to hair accessories, to make sure you're comfortable with how the headpiece will work and fit.
Flower crowns are popular with a softer, bohemian style of wedding dress. Alice bands or tiaras can vary, with ideas from the traditional diamanté or pearl style to a more unusual or geometric piece. For a romantic feel to a laid back style for those not pinning their hair up, ideas include a hair vine accessories.
Small combs can complement a sleek bun and create more height and some focus with a little sparkle. An ornate comb is one of the best ideas when combined with a simpler dress and natural look hair, giving a little bit of a modern twist to a traditional style.

Veils
Once a veil is added, the entire look of your outfit changes. Wedding veils are usually made of tulle which can be made of polyester or silk. Polyester is less expensive than silk but, once you try on a silk veil, you'll feel and notice the difference in texture and drape. Tulle is a very sheer, ethereal fabric that drapes beautifully and won't obscure the detail of your gown.
With a veil you always have the option to remove it later in the day, giving you ideas for how to change your look for your celebrations later.
If you choose a heavily detailed dress, one of our tips is to go for a simpler veil. For garden weddings choose a shorter veil. If your dress is heavily structured go for a traditional stiffer tulle. If your dress is a more silky affair then a silk style tulle may be one of the better ideas.
Colour
Many brides no longer choose classic ivory shoes which will never be worn again, and are instead looking at colour. Ideas include blending your whole look by repeating this colour in a headpiece like a flower or sash.
Colour ideas include black for a simple and bold move. Muted and pastel tones for warmth and romance. Lace and soft pinks or greens for a bohemian feel. Bright colours will add modernity to your look.
Bridal garter
Tips for a garter for those wearing a slinky, figure hugging dress include a sleek garter with minimal 3d embellishment. An A-line wedding dress will make nearly all garters invisible.
Bespoke accessories
If you can't find what you want, out tips include commissioning a bespoke piece that can be designed and made to meet your exact specifications or to incorporate an heirloom piece of jewellery. Bespoke options allow you to perfectly match your pieces to your dress, the theme of your wedding or your personal style.