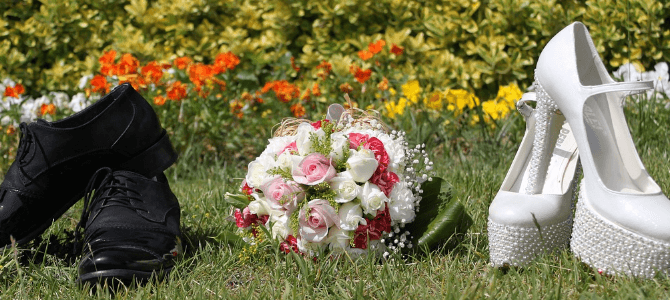 Our simple guide will help every bride to find the right shoe for the Big Day. This style guide will consider fabric, style, heel height and comfort along with suggested dress and shoe combinations.
When to buy
Some style guides suggest that brides choose your dress before your shoes since the dress will dictate the mood, colour, embellishment and heel height of your wedding shoes. Other style guides suggest that it does not matter if the dress or shoes are chosen first. Some brides start with the shoes and work up.
Brides ought to wear their bridal shoes a few times before the wedding so that they mould to your foot shape. Ensure your shoes come with extra padding for comfort and a protective plastic film on the sole that can be removed on your wedding day.
Wedding shoe fabrics
Shoe fabric selection is traditionally dependent on the fabric of the bride's dress. Match your shoes to the material at the bottom of the dress hem as many wedding dresses often have a combination of material types varying from the bodice to the skirt. The classic shoe fabric selections are silk satin, satin, crepe luxe. Other popular fabrics are metallic, glitter and vinyl.
Silk Satin is a natural fabric with a soft, satin sheen texture with an off-white hue. Perfect for silk wedding dresses, the fabric can still be dyed if you want another colour. Satin is a luxurious high gloss material that dyes well to deep rich colours. Satin also blends beautifully with iridescent gowns and velvet dresses.
Wedding shoe styles
The style of the bride's shoes is her personal choice and depends on the look she wants to create to express herself and complements the wedding gown while also being comfortable. Alternatively, wedding shoes can make as much of a statement as the wedding dress. If you wear statement shoes opt for a shorter hemmed statement dress.
Consider how much walking you will need to throughout the day when you choose the style of your shoes. If you are holding your entire wedding in one venue then you do not need to worry too much about it. Brides should also be guided by the season of the wedding day.
Open sling backs are the better style if you are getting married in a hotter climate and peep toes are good all year round. If you will be wearing your heels on a grassy or muddy surface you should be aware that they might get stained. To stop your heels sinking into grassy surfaces it helps to use heel protectors.
A bride's statement dress with a lot of detail can be finished off beautifully with a simple, elegant court shoe in a soft tone. This style of shoe will also cover less than perfect feet or toes.
Whatever vintage era you are incorporating when deciding on your dress or theme, choose a pair of vintage wedding shoes that fit the era. Style guides suggest kitten heels and bright colours for a 1950's feel or opt for sparkly wedding shoes for a 1920's twist.
Wedding shoe height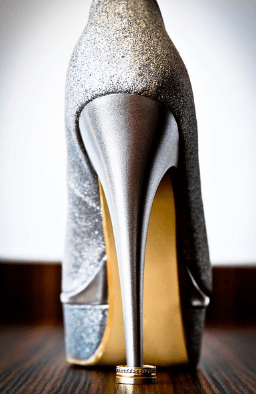 If you never wear 3 inch stilettos, now may not be the best time to start, unless you are determined and have plenty of time to practice. Wedding guides suggest selecting a heel height that you normally wear for special occasions or the height of your everyday shoes. Too much or too little incline can hurt, particularly when you will be wearing your shoes for several hours.
It is also important to consider the length of your wedding dress. You do not want any tripping disasters if you have a long train. Flat wedding shoes and kitten heels are undoubtedly the most comfortable style of footwear.
If you want to add height, but do not want to wobble on your feet, consider wedges. If you plan to dance the night away and kick off your high heel shoes, be aware that your wedding gown will probably drag on the floor.
If your budget is tight for the bride's shoes, you can find gorgeous bridal shoes on the high street at an affordable price.
Bespoke wedding shoe design
If you can not find a pair of shoes that you like, customise an existing pair instead. You can commission the transformation of your shoes into something incredible and unique by showcasing your wedding theme, names and dates, personalities and your love story, making this an item that you will treasure forever.
Treat your feet
You will want to feel your best from head to toe on your big day. Remember to schedule a lovely pedicure before your big day, so that you can slip your feet into your gorgeous wedding shoes with soft skin, neat cuticles and glossy painted nails.