Every bride wants to look their best on their wedding day, but sometimes the look just does not work. Just because a celebrity can afford designer wedding dresses does not mean they pick the one that makes them look fabulous. These celebrities failed to impress with bridal outfits or bridal dresses that were frankly, ugly. Some were tacky, some just left us speechless. Here we list some of the ugly wedding dresses worn by those we know and love. They have to be some of the most ugly wedding dresses on record.
P!nk
She's a rock chick with plenty of edge, but for her wedding dress, she went for too many ruffles that competed with an oversized black hair bow and matching sash. With a skirt looking like it had been thrown together from a set of curtains, it really was not her best look. It clearly didn't deter her husband Carey Hart, but most of us were not impressed.
Pamela Anderson
You would think that Pamela Anderson may have put a little more thought into her bridal outfit. Instead she appears to have taken her theme from her 'Baywatch' roots and married in a string bikini. She wed shirtless celebrity Kid Rock on a 'booze cruise' in St. Tropez. She clearly had not learned anything from her first marriage to Tommy Lee on a beach, when she also wore white swimwear.
Gwen Stefani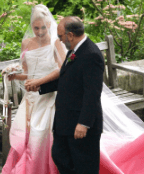 With a successful clothing line and a reputation as being one of the best dressed mum's in Hollywood, it is astonishing that pop star Gwen Stefani is on this list. Her 2002 wedding to Gavin Rossdale shows at that time, she hadn't got a handle on sartorial elegance. Her wedding photographs show her wearing a partially pink dyed gown that made her look more candy floss than stylish bride.
Celine Dion
When she married her manager Rene Angelil in 1994, Celine Dion wore a dress that took one thousand hours to complete, proving that money can buy you a silk wedding gown with a twenty foot train and seven-pound Swarovski crystal tiara, but still look ugly. The tiara was sewn into her hair and was an epic fail.
Coco
Coco's body has made her famous, so it's no surprise that she'd want to show it off on her big day. The model and actress wore a garish white princess gown that just barely covered her chest, and topped it off with a tiara when she married celebrity rapper Ice T.
Nicole Kidman
Looking at Nicole Kidman's wedding photographs from her marriage to Keith Urban, you could be forgiven for thinking it was a fancy dress party photo. Looking more pauper than celebrity Hollywood star, Nicole's wedding dress is just plain ugly.

Mariah Carey
In 1993 Mariah Carey married Tommy Mottola. For some reason she decided on a big, poofy wedding dress that were on trend in the 1980's. We wonder if she borrowed this monstrosity from an old friend or whether she had bought it a decade before and was waiting for Mr Right to appear. Whatever the story, it is one ugly dress.
Britney Spears
If you are a world famous pop star and celebrity, you can choose to have as many dresses for your wedding as you want. Spears went in the opposite direction. Wearing a classic floor-length wedding dress for her marriage to Kevin Federline, she promptly changed into a white T- shirt for the reception, going from one lovely wedding dress to half an ugly outfit later.
Katie Price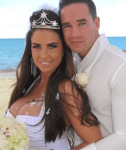 Katie Price married Peter Andre in 2005. Clearly channelling her childhood dreams of wearing a sparkly pink wedding gown, which is a sweet dressing up idea for a seven year old, Price proved that such dreams are a total disaster when you are an adult. With a pink satin train that stretched 2,700 feet, making it the longest wedding dress on record, it is also has the unofficial record of one of the most ugly celebrity wedding dresses ever. The celebrity glamour model didn't make the same mistake at her second wedding, going to the other extreme with the shortest gown that was just too ugly, exposing her flesh.